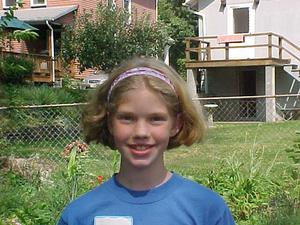 OUR CLASS

By: Stacy
(Written 05/05/2001)

Hi! I'm glad you came. Check out this website, because it is cool. We are from East Elementary School. We range from ages 10 - 11. We have 22 kids in our class. Our favorite food is pizza. Our favorite game is when we play on scooters in gym class. We pick partners and then we pick out a scooter. One person sits on it and the other person gets a piece of rope. One person holds one end of it while the other person holds the other end of it. Then the person that is not sitting on the scooter will swing the person on the scooter around. It is very fun! We like playing a game called Funnels and Buckets on the computer and also playing on our class website.

Our class made a schoolyard habitat and in our room we have lots of class pets. Here is a list of our class pets.... We have a rabbit named Thumper, two rats named Oreo and Oatmeal, one bearded dragon named Hurricane, one Iguana named Gizard the Lizard, and one guinea pig named Butterscotch (but people call Butterscotch Mini Guinea.) We used to have a snake, but it got loose, and we used to have another guinea pig named Cupcake, but there was something wrong with her and she died.

Our teacher, Mrs. Abernethy, loves math! If an assembly takes up our math time, don't think you won't have math, because she will make time, trust me!

We, also, once in a while do some spring cleaning in the classroom. You should see us cleaning the windows, sweeping the floor, dusting, cleaning the animal cages (we have to clean the animal cages just about every day though ), and lots of other stuff that has to do with cleaning a class room.

Our class had a Wolf Night a couple of months ago and we raised money. We adopted 2 wolves with the money. We raised money for Children's Hospital and we raised around $2,237.00. We earned that money by having a penny war between classrooms. We did that by asking people to bring in money and pennies and silver coins. We told the whole school that you put the pennies in your class's can and you put money and silver in other class's can. The money and silver would subtract from that person's can. You couldn't take out the silver and the money from your can. That is how we ended up getting all that money. Out of all the pennies we counted and all the money and silver we counted that was a lot of work. People from our class stayed after school to count the pennies. All we can say was it took a lot of hard work for all of us.

Our school East Elementary School is located on 71 Columbia Ave., Greenville PA, 16125. Greenville is unique, because it is a little quiet town, most of the time anyway.

If you want to learn more about our classroom, just check out this website!